How Comfortable are you talking with youth
about their sexual health?
ECHO On-Demand:
Adolescent Reproductive Health for Nurses, Educators and
People Who Work With Youth
Audience:
Educators, nurses and people who work with youth
Commitment:
Six online ECHO sessions viewed at your schedule and pace
Schedule:
Launching this July!
Pre-register to receive launch date notification.
Continuing Education Credit:
CNPD: This activity is under review for Continuing Nursing Professional Development credit and is pending approval. ECHO participants typically earn one credit per session attended.
CE for Educators: This course was designed with the potential for Colorado educators to earn CEUs. Participants will receive a certificate of completion at end of the course with information required by the Colorado Department of Education to submit for renewal credit, if it is applicable to the educator's license. For educators outside of Colorado, please check with your local/state board to see if this activity qualifies for you.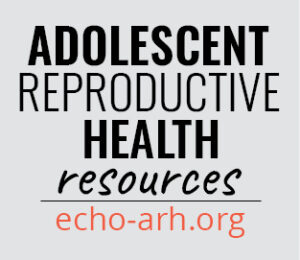 ECHO SESSION 1

Introduction to Gender and Sexuality

ECHO SESSION 2

Reproductive Anatomy and Physiology

ECHO SESSION 3

Pregnancy and Contraception
ECHO SESSION 4

Sexually Transmitted Infections (STIs)

ECHO SESSION 5

Adolescent Sexual & Reproductive Health Care Overview

ECHO SESSION 6

Approaching Sexual Health Education in the Classroom