Newcomer Health
Refugee, immigrant and migrant communities face multiple
systems barriers that negatively affect health
Newcomer Health
Audience:
Medical providers across the U.S. who provide care or who want to learn more about providing care for newcomers, including refugees, immigrants and migrants
Schedule:
Ongoing monthly ECHO sessions held virtually
Last Tuesday of the month
6:00 AM PT | 7:00 AM MT | 8:00 AM CT | 9:00 AM ET
First session October 25:
Introduction to Refugee Resettlement
CME:
CME for this series has been applied for and is pending approval. ECHO participants typically earn one credit per session attended. In order to receive CME credit for this ECHO series, post-session surveys must be completed by the indicated deadline.
In partnership with: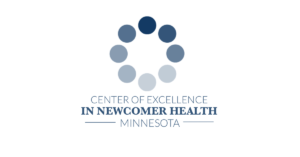 The Center of Excellence in Newcomer Health builds on existing infrastructure and its partners' extensive experience to identify and monitor newcomer health issues and needs, contribute to evidence-based policies and guidance, and ultimately improve continuity of care and health outcomes for newcomers.
ECHO SESSION 1

Introduction to Refugee Resettlement

October 25, 2022

ECHO SESSION 2

Afghan Health Considerations

November 29, 2022

ECHO SESSION 3

Ukrainian Health Considerations

January 31, 2023
ECHO SESSION 4

Vaccinations

February 28, 2023

ECHO SESSION 5

Tuberculosis

March 28, 2023

ECHO SESSION 6

Hepatitis B – Pediatrics

April 25, 2023
ECHO SESSION 7

Hepatitis B – Adults

May 30, 2023

ECHO SESSION 8

GI Infections – Soil Transmitted Helminth Infections

June 27, 2023

ECHO SESSION 9

Lead and Anemia

July 25, 2023
ECHO SESSION 10

Mental Health

August 29, 2023

ECHO SESSION 11

Sexual and Reproductive Health

September 26, 2023

ECHO SESSION 12

Pediatric Nutrition

October 31, 2023
ECHO SESSION 13

Female Genital Cutting

November 28, 2023