Forty-nine out of 64 Colorado counties do not have a
child and adolescent psychiatrist
PEDIATRIC PSYCHIATRY IN PRIMARY CARE:
CORE ESSENTIALS
AUDIENCE:
Prescribing primary care providers in Colorado
COMMITMENT:
Seven weekly ECHO sessions held virtually
Thursdays 7:30 - 8:30 AM MT
October 5 - November 16
CME:
CME for this series has been applied for and is pending approval. ECHO participants typically earn one credit per session attended.
You will be emailed a survey link at the end of this ECHO. Please be sure to complete this survey, which should take no more than 5-10 minutes. For series that offer continuing education (CE) credits, surveys must be completed by the indicated deadline in order to receive CE credit. CE credit will not be given for late survey submissions.
In partnership with: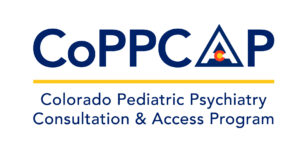 In partnership with the Colorado Department of Public Health and Environment, this project is supported by the Health Resources and Services Administration (HRSA) of the U.S. Department of Health and Human Services (HHS) as part of an award totaling $1,851,222.00 with zero percentage financed with nongovernmental sources. The contents are those of the author(s) and do not necessarily represent the official views of, nor an endorsement, by HRSA, HHS or the U.S. Government.
ECHO SESSION 1

Assessment and Screening

October 5, 2023

ECHO SESSION 2

What is Therapy

October 12, 2023

ECHO SESSION 3

Assessing and Treating Anxiety

October 19, 2023
ECHO SESSION 4

Assessing Suicidality

October 26, 2023

ECHO SESSION 5

Assessing and Treating ADHD

November 2, 2023

ECHO SESSION 6

Trauma in Primary Care

November 9, 2023
ECHO SESSION 7

Assessing and Treating Depression

November 16, 2023